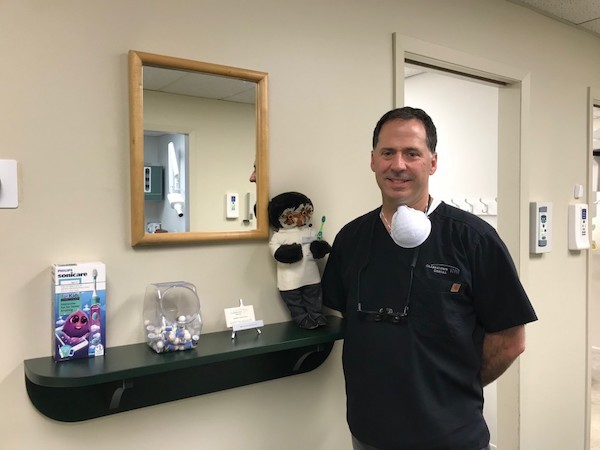 Jonathan Torma, DDS
Dr. Jonathan Torma is a graduate of the State University of New York at Binghamton and The Ohio State University College of Dentistry. After graduation, Dr. Torma returned home to New York to practice top quality preventative and restorative dentistry. Always an avid learner, he continues to develop his skills and invest in educating himself in order to offer the very best to his patients. He is an active member of the American Dental Association and the New York State Ninth District Dental Society. He attends many continuing education seminars and is a member of many local study groups.

Dr. Torma provides state of the art cosmetic and family dentistry in addition to Invisalign and Implant dentistry. Our patients really enjoy that they can be treated for most procedures in our office. As a strong proponent of prevention, Dr. Torma and our staff educate each and every patient on how to prevent decay and gum disease. He believes that most dental issues can be prevented when your teeth are properly cared for. Dr. Torma enjoys his profession and is very happy to be able provide the very best care he can to his patients. His patients will agree that they are getting the best care there is.

Dr. Torma has resided and practiced dentistry in New City for over 25 years. Dr. Torma, along with his wife Stacey have raised their children Alex and Ilana in New City. They are very proud of their children who are both pursuing success in their careers in Manhattan. Dr. Torma enjoys spending time with his family and friends. He enjoys skiing, hiking, cycling, cooking, and travel.

Kathy - Hygienist
Kathy Burke earned her degree in Dental Hygiene from Luzerne County Community College. She has been practicing at Clarkstown Dental since 2007. Kathy's goal is to educate her patients on their own dental health, while providing them with a gentle and thorough cleaning. Somehow throughout the cleaning you can often hear a lot of laughter between Kathy and her patients coming from the operatory.

Kathy resides in Norwood, NJ with her husband Sean and their two daughters, Lily and Maggie. She enjoys spending time with her family and the great outdoors.

Lenoor - Hygienist
Lenoor Lucksom first began working as an office/dental assistant at Clarkstown Dental in 1998. She graduated from Bergen Community College in 2006 and received her Dental Hygiene license. Lenoor has recently returned back to our office after living and working in NYC. She loves working one on one with patients and prides herself on making sure everyone is comfortable in the chair and knowledgeable on proper homecare. Her upbeat personality and calming disposition is an asset to our office. Lenoor and her boyfriend, Saeed, have 2 children, Cyrus and Neya. Lenoor likes traveling, baking, and hanging out with family and friends.

Adelis - Business Account Administrator & Bookeeper
Addy Melendez attended Rockland Community College for Business Administration. Adelis joined Clarkstown Dental in the summer of 2019 as a Scheduling and Patient Care Coordinator. She switched over in pursuit of her career as a business administrator. Her background in office management is a huge asset to our office. Addy enjoys spending quality time with her family; her husband Danny, and her children Angelis, Ethan, and Aidan.

Brittany-Dental Assistant
Brittany attended State University of New York at New Paltz where she received her bachelor's degree in Journalism. She Joined Clarkstown Dental 2018 as a Front Desk Receptionist. She quickly realized that she was more interested in the clinical side of things and switched over to the "back" as a Dental Assistant. Brittany enjoys being involved with our patients and being a part of their dental care upfront and personal. Brittany likes learning, getting involved and brings a lot of energy to our office. Brittany enjoys her friends, family and watching reality TV with a glass of wine.

Joanne - Financial & Insurance Coordinator
Joanne joined Clarkstown Dental with over 20 years of front office experience. She is committed to working with all of our patients to maximize their insurance benefits and formulate a financial plan for them to achieve the very best dental care. Her expertise, efficiency, warm friendly demeanor and sense of humor are all a welcome addition to our practice. Joanne enjoys spending time with her family, her animals, snowmobiling and gardening.

Excellence by Choice

Clarkstown Dental is our patient centered dental practice. We strive to provide a friendly and comfortable environment where our patients receive the personalized care and professional attention they deserve. Our highly trained staff is committed to treating all of our patients and each other with dignity, respect, and as unique individuals. By offering the highest quality dental services, we hope to motivate our patients to choose excellence and enjoy the cosmetic and long term health benefits of the decision.