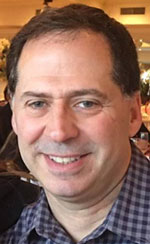 Jonathan Torma, DDS
Dr. Jonathan Torma is a graduate of the State University of New York at Binghamton and he earned his Doctor of Dental Surgery degree from The Ohio State University College of Dentistry. After graduation, Dr. Torma returned home to New York to practice the skills he learned. Always an avid learner, he continues to develop his skills in order to offer the best he can to his patients, friends and family. He has always been a member of the American Dental Association and the New York State Ninth District Dental Society since being in practice and attends and learns at many local study groups.

He provides state of the art cosmetic and family dentistry and other disciplines such as Invisilign and Implant dentistry. We find that our patients really enjoy that they can be treated well in our office without having to be referred elsewhere. As a strong proponent of prevention, Dr. Torma and our staff teach how to prevent decay and gum disease. He believe that most dental issues can be prevented when your teeth are properly cared for. Dr. Torma enjoys his profession and is very happy to be able provide the best care he can to his patients.

Dr. Torma has resided and practiced dentistry in New City for over 21 years. Dr. Torma with his wife Stacey have raised their son, Alex, and their daughter, Ilana, in New City. They are very proud of their children who are attending Northeastern University and the University of Michigan respectively. With his family and friends, he enjoys skiing, hiking, cycling, cooking, and travel.

Kathy - Hygienist
Kathy Burke RDH, Kathy Burke earned a degree in dental hygiene from Luzerne County Community College. She has been practicing at Clarkstown Dental since 2007. Kathy's goal is to educate her patients on their own dental health, while providing them with a gentle and thorough cleaning.

Kathy resides in Norwood, NJ with her husband Sean and their two daughters, Lily and Maggie. She enjoys spending time with her family and the great outdoors.

Wendy - Hygienist
Wendy has been a dental hygienist since 1983. She graduated from Fones school of Dental Hygiene and has a B.S. degree with a minor in Mental Health. She began working at Clarkstown Dental in 2004. She is a very focused, gentle, and thorough hygienist. Her goal is to make our patients feel relaxed and comfortable during their appointments.

In her spare time she enjoys working out, especially spinning, and eating healthy. Also, she enjoys spending time with her children.

Amanda - Patient Care Coordinator
Amanda has been in the dental field for over 8 years. She joined our team in 2014 as our Patient Care Coordinator. Amanda is passionate about accommodating each patient for their appointments and working with them to figure out the best treatment plan to fit their needs. Her goal is to build long term relationships with our patients and make them feel comfortable, relaxed, and informed about their dental appointments.

Amanda resides in Rockland County with her husband David and their two daughters, Janexi and Makayla. Outside of work, she enjoys outdoor activities and likes to spend time with her family and friends.

Rita - Financial Coordinator
Rita has lived in New City for over 30 years and been a patient of this practice all of that time. After 20 years experience as Office Manager of a software development company, she joined Dr. Torma's team as our Financial Coordinator. Knowing how important dental care is to your overall health, Rita is committed to working with you to maximize your insurance benefits and formulating the best financial plan to work within your family's means.

Rita and her husband, Ira, raised two exceptional sons of whom she is extremely proud. In her spare time she enjoys meeting with family and friends and is always up for seeing a movie.

Adalgelis-Dental Assistant
Bio Coming soon!

Excellence by Choice

Clarkstown Dental is our patient centered dental practice. We strive to provide a friendly and comfortable environment where our patients receive the personalized care and professional attention they deserve. Our highly trained staff is committed to treating all of our patients and each other with dignity, respect, and as unique individuals. By offering the highest quality dental services, we hope to motivate our patients to choose excellence and enjoy the cosmetic and long term health benefits of the decision.

Healthy Smiles, Happy Lives!